GOP presidential race seems close, but Mitt Romney has the numbers
Political campaigns are about heart and soul, but in the end it's the numbers that count. Mitt Romney clearly is ahead in the delegate count, and one prominent Republican says "this thing is about over."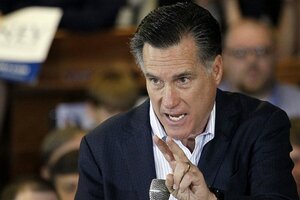 Rogelio V. Solis/AP
In some ways, Mitt Romney is the Rodney Dangerfield among presidential candidates. He certainly gets "no respect" from his GOP rivals.
Rick Santorum calls him a "very desperate" man who "reinvents himself for whatever the political occasion calls for."
Newt Gingrich, ever the history professor, says Romney is "probably the weakest Republican front-runner since Leonard Wood." (Bonus points for knowing that Leonard Wood was the Army general who lost the GOP nomination to Warren G. Harding in 1920. He did have a US Army fort in Missouri named for him, however.)
Press reporting continues to dwell on Romney's short-comings as a candidate as well – his Richie Rich persona, his cringe-worthy attempts to seem folksy (a new-found appetite for southern biscuits and cheesy grits), the distance rightward he's traveled since his days as a moderate Republican, his failure as front-runner to deliver a "knockout blow" – a favorite phrase of headline writers after Super Tuesday.
And, besides, the worst thing in the world for political pundits would be to have the GOP nominating race over and eight months to go until the election.
RECOMMENDED: How much do you know about Mitt Romney? A quiz.
---