Obama's reelection campaign moves into high gear
Like all first-term presidents, Barack Obama has been running for reelection since the day he took office. But recent days have seen a flurry of activity, including the unleashing of Vice President Joe Biden.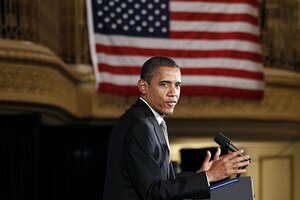 Pablo Martinez Monsivais/AP
It's official. President Obama has launched his reelection campaign.
Well, not "official" in the sense of brass bands and patriotic bunting and "a chicken in every pot" (which Herbert Hoover never said, by the way). And cynics, of course, will say that he's been running for a second term since the minute he finished taking his oath of office January 20, 2009.
But last week seemed to kick-start things in a big way.
The Obama campaign released its documentary film "The Road We've Traveled," directed and narrated by Academy Award winners Davis Guggenheim and Tom Hanks. As the Monitor's Linda Feldmann reported, "It's an infomercial, aimed at reminding the legions who voted for Obama four years ago why they liked him and why they should get excited again – and donate and volunteer."
On Friday, Obama attended five fundraisers, three in Atlanta and two in Chicago. And he's unleashed Joe Biden to do what the Vice President does best: stir the political pot with full-throated campaign rhetoric designed to secure friends and needle political opponents.
---