Big win in Illinois primary propels Mitt Romney closer to GOP nomination
His win in the Illinois primary does not cement his status as eventual GOP nominee, but it certainly firms it up. The next primary, Saturday in Louisiana, does not favor Mitt Romney, but many of the April contests do.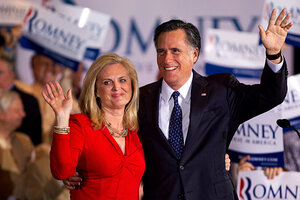 Steven Senne/AP
Mitt Romney won the Illinois primary handily – both in the popular vote and in the delegate count – solidifying his status as the prohibitive favorite for the Republican presidential nomination.
Mr. Romney's superior organization and financial firepower, and a growing reputation as the most electable Republican in the field, sealed the deal in Illinois, a state whose GOP voter profile played to Romney's strengths. Sixty percent of Tuesday's voters said Romney was the most likely candidate to beat President Obama in November, higher than the average of exit polls in earlier contests.
"An improved sense that he understands voters' problems boosted Mitt Romney to victory in the Illinois primary, as did a less religiously focused, less strongly conservative electorate than he's faced in other contests, especially to the south," writes Gary Langer, pollster for ABC News, in an analysis of the Illinois exit poll. "But a shortfall among less well-heeled Republicans marks his continued challenges."
With 99 percent of the vote counted early Wednesday, Mr. Romney took 46.7 percent, Rick Santorum had 35 percent, Ron Paul had 9.3 percent, and Newt Gingrich had 8 percent. Nobody dropped out of the race, but Romney supporters hoped his double-digit victory in a big state would quiet talk of a contested GOP convention in August.
---