Ron Paul: Most Americans agree with him on Afghanistan pullout
Ron Paul has yet to win a primary or caucus election, but on one thing he has the support of most Americans: The withdrawal of US troops from Afghanistan sooner rather than later.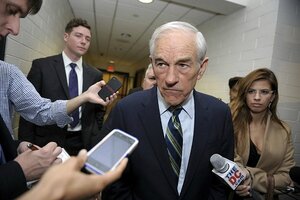 Cliff Owen/AP
As Ron Paul falls farther and farther behind in the Republican race for the presidential nomination, there's one area in which most of the American public increasingly is in full agreement with the congressman from Texas: the war in Afghanistan.
Rep. Paul may have failed to win any GOP primary elections or caucuses, and he may be way behind in accumulating delegates to the party convention in August (Mitt Romney has more than 10 times as many), but that hasn't stopped the idealistic libertarian from speaking critically of his own party.
"The truth is, I'm trying to save the Republican Party from themselves because they want perpetual wars; they don't care about presidents who assassinate American citizens; they don't care about searching our houses without search warrants," Paul said on CBS News' "Face the Nation" Sunday.
The roar of Ron Paul: Five of his unorthodox views on the economy
In fact, many Americans also find troubling current government policy regarding warrantless searches and killing American citizens who have aligned themselves with terrorists bent on attacking the US.
But it is the war that's gone on for more than 10 years in Afghanistan – a war that is not going particularly well and that has seen a series of incidents where supposed Afghan allies have killed US service personnel – where the public's agreement with Paul seems most evident.
---