In Wisconsin, Mitt Romney is running against Obama, not Rick Santorum
Even before Tuesday's Wisconsin primary is finished, Mitt Romney breaks away from a tough GOP primary season to reset themes for a November campaign against President Obama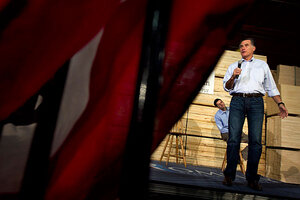 Steven Senne/AP
Mitt Romney strode into a town hall meeting here late afternoon Monday, not accompanied by his wife or sons, but by one of the biggest stars in the national Republican Party: US Rep. Paul Ryan of Wisconsin.
That Congressman Ryan introduced Mr. Romney, and then sat beside him to help answer audience questions signals a shift in a tumultuous GOP presidential primary. After four months of hard knocks against GOP rivals, Romney is back to the place he wanted to be from the beginning – looking presidential.
Leading in polls for today's Wisconsin primary, the former Massachusetts governor no longer considers himself just another nominee, but the inevitable challenger to President Obama who must now start focusing on winning the race in November.
Unlike GOP challenger Rick Santorum, who spent over a week in the state making appearances in small towns, Romney dropped into just four counties and avoided standard photo-ops like bowling or eating bratwurst with locals, which is the bread-and-butter strategy of the Santorum campaign.
Instead, Romney is striking a more presidential tone, refusing to attack or even mention his opponents, and instead sticking to purely fiscal issues such as the economic prosperity, growing jobs, and health care. He is direct in his criticism of Mr. Obama but, unlike Mr. Santorum and former House Speaker Newt Gingrich, his tone is less sanctimonious and more respectful.
"He did not cause the recession … but he was going to be the one who was going to end it," Romney said of the president Monday.
---