Slamming 'social Darwinism,' Obama reignites debt clash with GOP
On primary day, Obama decries the Republican budget proposal as a 'prescription for decline' that would bring cuts to education, transportation, and the social safety net.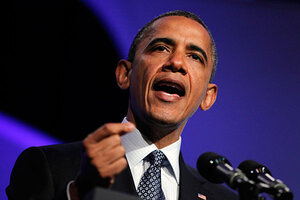 Jason Reed/Reuters
Reigniting his clash with Republicans over how to tame the debt and deficits, President Obama delivered a blistering attack on the House Republican budget Tuesday, calling it "thinly veiled social Darwinism" and a "prescription for decline."
The Republican budget proposal, Mr. Obama said, would bring draconian cuts to education, transportation, and the social safety net for seniors and the poor as the wealthy receive tax cuts.
And even as Obama derided Reagan-era "trickle-down economics," he sought to paint the current Republican Party as being to the right of the conservative icon, noting that President Reagan once worked with Democrats to save Social Security.
The $3.5 trillion Republican budget "is a Trojan horse," Obama said in a lunchtime address to the annual meeting of the Associated Press in Washington. "Disguised as deficit reduction plans, it is really an attempt to impose a radical vision on our country. It is thinly veiled social Darwinism."
"It is antithetical to our entire history as a land of opportunity and upward mobility for everybody who's willing to work for it, a place where prosperity doesn't trickle down from the top, but grows outward from the heart of the middle class," Obama continued. "And by gutting the very things we need to grow an economy that's built to last – education and training, research and development, our infrastructure – it is a prescription for decline."
The president spoke as Republicans headed to the polls Tuesday in Wisconsin, Maryland, and the District of Columbia for primaries that could effectively seal their party's nomination for Mitt Romney. Obama mentioned Mr. Romney by name, as he sought to lash the former Massachusetts governor to a radical – and, he hopes, electorally unappealing – image of the Republican Party.
---