Mitt Romney: Obama warning on budget has 'no relevance in reality'
On Tuesday Obama said the Republican budget would lead to draconian cuts to the social safety net. Mitt Romney counterpunched Wednesday, calling the warnings 'rhetorical excess.'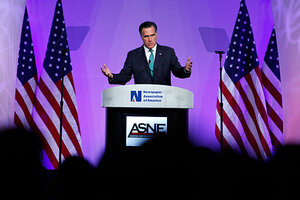 Larry Downing/Reuters
Mitt Romney punched back Wednesday for the merciless beating he and the Republicans took at the hand of President Obama the day before, calling Mr. Obama's predictions of draconian cuts to social safety net and other programs "straw men."
Mr. Romney was in Washington to address the Newspaper Association of America, and fresh off a sweep of Tuesday's three primaries that tightened his grip on the GOP nomination. Obama, he said, had looked at the House Republican budget and pointed to "all the terrible things that would happen" if cuts were made by the same percentage across the board. But that's not how it would work, he said.
"These things are just straw men that have no relevance in reality," Romney said during the question and answer portion of his appearance. "I think it's important for us to talk about the real issues that exist in the country and how we would address them."
Romney accused Obama of engaging in "rhetorical excess [that] I don't think serves us terribly well in a process like this."
In his speech Tuesday, Obama listed a series of cuts aimed at illustrating life under the House Republican budget, from depriving 2 million women and young children of nutritional assistance to reductions in financial aid to 10 million college students.
Romney suggested Obama was engaging in a false exercise. "Of course you wouldn't cut programs on a proportional basis," he said. "There would be some programs you would limit outright – eliminate outright, Obamacare being first on the list. And that saves about $100 billion a year."
---