Gingrich acknowledges the inevitable: He won't be the nominee
Newt Gingrich didn't formally withdraw from the presidential race. But he's way behind in delegates, and he describes Mitt Romney as 'far and away the most likely' Republican nominee.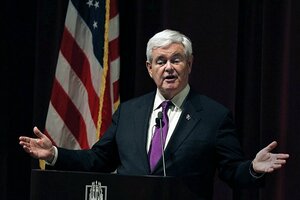 Rick Wood/Milwaukee Journal-Sentinel/AP
And then there were three?
Not exactly, but it does seem as if Newt Gingrich is writing his own presidential campaign obit.
On "Fox News Sunday," Gingrich described Mitt Romney as "far and away the most likely" GOP nominee.
"I hit him as hard as I could. He hit me as hard as he could. It turned out he had more things to hit with than I did. And, that's part of the business. He's done the fundraising side brilliantly," Gingrich said, adding that he'll campaign "as hard for Romney as I would for myself."
For now, he acknowledges, he has $4.5 million in campaign debt, and he's "operating on a shoestring." Two weeks ago, he laid off one-third of his campaign staff.
IN PICTURES: Newt, now and then
Except for South Carolina and his home state of Georgia, Gingrich has been unable to win any presidential primaries or caucuses. He kept saying he'd fight it out at least until the Texas primary May 29, and he may have survived a string of southern primaries earlier that month (although probably not as long as Rick Santorum stayed in the race).
---