Mitt Romney courts evangelicals at Liberty University
Mitt Romney's Mormon religion has been a problem for some evangelicals. At conservative Liberty University Saturday, Romney stressed Christian values without mentioning his own faith, part of an apparently successful effort to win over evangelicals and other social conservatives.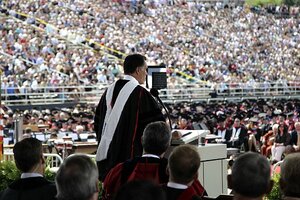 Jae C. Hong/AP
Without dwelling on – or barely mentioning – his own faith, Mitt Romney Saturday portrayed himself as a religious conservative who believes that "there is no greater force for good in the nation than Christian conscience in action."
"Central to America's rise to global leadership is our Judeo-Christian tradition, with its vision of the goodness and possibilities of every life," Romney declared.
His commencement address to Liberty University in Lynchburg, Va. put Romney in front of his largest audience so far in his presidential campaign (an estimated 35,000).
The institution, founded by the late televangelist Jerry Falwell and billing itself as "the largest Christian university in the world," was a crucial setting for Romney – who is a Mormon – as he tries to attract evangelicals and other social conservatives who'd held out hopes for Rick Santorum and other Republican presidential candidates now fallen by the wayside.
RECOMMENDED: Gay marriage issue: Who does it hurt most, Obama or Romney?
Pushing both Romney – the presumptive Republican nominee – and President Obama off their economic message this week was same-sex marriage. Preempted by Vice President Joe Biden's comments in support of same-sex marriage last Sunday, Obama found himself having to jump aboard.
---