Will black voters grouse over Obama move to aid young illegal immigrants?
Obama's move to give work permits to certain illegal immigrants may not sit well with job-hungry African-Americans. Some analysts say it could hurt him among his most faithful constituency: black voters. Others say no way.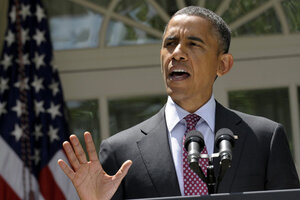 Susan Walsh/AP
Some black voters may be none too happy with President Obama for shielding some 800,000 working-age illegal immigrants from deportation, seeing them as competition for scarce jobs. But black activists and political scientists quibble over just how much that decision, announced Friday, will hurt the president among African-Americans in his bid for reelection.
The calculus of the Obama campaign, clearly, was that the new policy would be a net gain: that the president would pick up many more votes in the Latino community than he would lose in the African-American community. Mr. Obama's action means that undocumented young adults who were brought to the United States by their families when they were minors, and who are in good standing, can remain in the US and will qualify for two-year work permits, which are renewable.
The work permits are what may prove to be controversial in the black community, where teen unemployment is 38.2 percent, says Washington attorney Cherylen Harley LeBon of Project 21, a national group representing conservative African-Americans. Some black voters, she suggests, may not be willing to give Obama a pass on that.
"In this economy, blacks are circling the wagons and looking at what will impact their own families," says Ms. LeBon. Their focus going into an election year "is on kitchen-table issues." This is a bottom-line issue, "with blacks asking, 'How will this affect my ability to put food on the table?' "
Presidential scholar Charles Dunn agrees. Because Latino and African-American voters have different policy objectives on immigration, the president's "efforts to woo the one hurt him with the other," he says via e-mail.
Obama's relaxation of deportation rules for certain young Latinos undercuts his efforts to reenergize his most important and vital constituency: African-Americans, he adds. They "feel threatened by the loss of jobs to Latinos."
---