Poll: With court's health care decision, Obama's lead over Romney slips
A new Monitor/TIPP poll has President Obama's lead over Mitt Romney slipping to a single percentage point. The Supreme Court's health care ruling is one of the reasons as Americans become more polarized.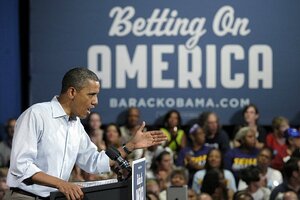 Susan Walsh/AP
The US Supreme Court's recent decision upholding the Affordable Care Act was seen as a big win for President Obama. But it also appears to have cut his already-slim lead over Mitt Romney.
According to a new Investor's Business Daily/Christian Science Monitor/TIPP Poll of 825 registered voters taken just after the court's ruling, Obama's lead over Romney has slipped from four percentage points to just one point (43-42).
"Clearly Romney is benefiting from the Court's decision," says Raghavan Mayur, president of TechnoMetrica Market Intelligence in Ramsey, NJ, which conducted the poll. "It is energizing the opponents of the [health care] reform, and more folks are likely to align themselves with Romney than Obama on this account."
Romney leads among men, whites, voters older than 45, and those earning more than $50,000 a year. Obama is ahead among women, black/Hispanic voters, those younger than 45, and those earning less than $30,000 a year.
How much do you know about health-care reform? Take our quiz!
The state of the economy – particularly in light of Friday's modest jobs report – appears to be a factor as well.
TIPP reports that 28 percent of US households – the highest figure detected so far – have at least one member looking for employment. As it has since the beginning of the year, the "financial related stress index" hovers at around 58 percent.
While a plurality (48-44 percent) approve of Obama's overall job performance, only about one-third of those polled think he's doing a good job on the economy; 42 percent say he's doing a "poor" or "unacceptable" job in this category.
---