Why are all these conservatives beating up on Mitt Romney?
Mitt Romney has been taking flak from some prominent conservatives. They want to see a specific plan for the economy, and some say the fancy vacation home feeds the rich-guy image.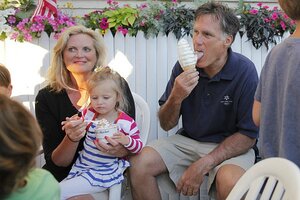 Charles Dharapak/AP
"With friends like these," Mitt Romney must be thinking, "who needs enemies?"
Probably not, because it looks as if the Romney clan is having too much fun boating and barbecuing at their vacation compound up on Lake Winnipesaukee in New Hampshire.
But the presumptive Republican presidential nominee has been taking flak from some prominent sources among his normally supportive fellow conservatives.
On "Fox News Sunday," it was Weekly Standard editor William Kristol. He said Mr. Romney needs to do more than just cite the nation's economic woes as reason enough to oust President Obama. He needs to articulate a plan, Mr. Kristol said, not only on the economy but on other key issues including health care.
Mitt Romney: top 5 attacks on President Obama
It worries him, he said, that Mr. Obama is "holding his own" in polls despite three months of disappointing jobs figures. More to the point, Kristol pointed out, only 27 percent of those polled by Fox News think Romney has a clear plan for improving the economy.
---