Mitt Romney's foreign trip ends. Good thing for him these are the dog days.
Mitt Romney may be glad his less-than-perfect trip to London, Israel, and Poland has wrapped up – ending with his press secretary cursing at pushy reporters. But the good news for him is that few voters are paying attention.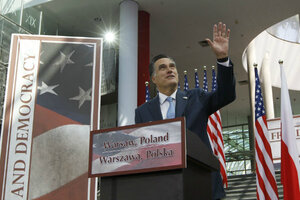 Charles Dharapak/AP
First, the bad news for Mitt Romney: What should have been an easy, photo-op-driven trip abroad by the presumptive Republican presidential nominee was marred by gaffes and other miscues – culminating in a press aide's off-color admonition to pushy reporters.
The good news is that these are the dog days of summer, and most voters aren't paying attention – especially the swing voters who will decide the election. It's also good for Mr. Romney that foreign policy barely registers as a voter concern. President Obama already wins that issue in polls.
Still, in traveling to London, Israel, and Poland over the past week, Romney was hoping to build up a thin aspect of his résumé, foreign-policy experience. He did deliver some well-received speeches, interact with foreign leaders, raise campaign cash from Americans abroad, and get the requisite footage of himself on the world stage.
And as painful as some of the moments may have been for Romney, with a news-hungry press corps ready to pounce on every ill-chosen word, the trip could end up being a valuable learning experience, analysts say.
"Most candidates who have not been on the world stage before often realize that it's just a bigger stage than they thought," says John Geer, a political scientist at Vanderbilt University in Nashville. "You find out that there's a lot more land mines out there in the international arena."
What Romney went through was not all that atypical for a novice, Mr. Geer says, noting, for example, the extraordinary complexity of Israeli-Palestinian relations. "The question is, is there any kind of learning curve from it?" he says.
---