Obama leads in three key swing states, but Romney can still sway voters
A new poll of likely voters in Ohio, Florida, and Pennsylvania shows President Obama winning all three states, on the basis of his strength among women voters. But given voter concerns about the economy, Mitt Romney can still catch him.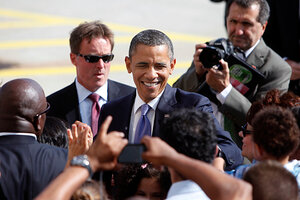 Jason DeCrow/AP
Despite persistently high unemployment , President Obama is beating Republican candidate Mitt Romney in three key battleground states, Ohio, Florida, and Pennsylvania, according to a new Quinnipiac University/New York Times/CBS News poll.
In Ohio, Mr. Obama beats Mr. Romney among likely voters 50 percent to 44 percent. In Florida, Obama is ahead 51 percent to 45 percent. Obama has a wider lead in Democratic-leaning Pennsylvania, 53 percent to 42 percent. Since 1960, no one has won the White House without winning at least two of these states. Four years ago, Obama won all three.
If history is any guide, Ohio's result may be most significant: The Buckeye State has voted for the winner in every presidential race since 1964, the longest winning streak of any state. And no Republican has ever won the presidency without winning Ohio. Obama launched his reelection campaign there; and he, Vice President Joe Biden, and first lady Michelle Obama are all frequent fliers to the state. On Wednesday, the president holds campaign events in Mansfield and Akron.
Obama's personal appeal and empathy give him the edge in all three states, even as he struggles to convince voters that he would do a better job on the economy than Romney, a wealthy former businessman, the Times reports. The long-documented gender gap that favors Democrats is also evident.
---