Mitt Romney, in Colorado, looks to energize flagging campaign
Mitt Romney has lost ground in key swing states recently. Now back on the campaign trail, the GOP presidential candidate is in battleground state of Colorado on Thursday, trying to sway independent voters in Denver suburbs.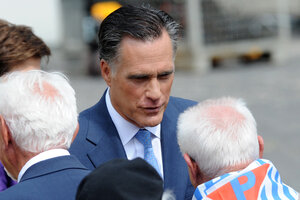 Alik Keplicz/AP
Mitt Romney's campaign needs some good news.
The former Massachusetts governor returned home Tuesday from an overseas trip marred by several missteps and to the news that he appears to have lost ground in several key swing states, including Ohio, Florida, and Pennsylvania.
Taken as a whole, July was not Mr. Romney's month – and Romney may be thankful that it's a season when few Americans focus on the news.
But August is a new month and offers Romney several chances to energize his campaign. Sometime in the coming days or weeks, he'll announce his vice presidential pick, and he'll close the month with the Republican National Convention in Tampa, Fla.
Romney is starting the month, however, in another swing state: Colorado.
On Thursday, he'll head first to the Denver suburbs, speaking at the Jeffco Fairgrounds in Golden, Colo., before heading west to more rural voters in Basalt, Colo.
The visit to suburban Denver "will be a new opening, a new direction" for Romney, says Floyd Ciruli, a Denver-based pollster, noting that until now Romney has focused his Colorado campaigning in the more conservative parts of the state, hoping to shore up support and energize his base.
---