Things you probably didn't know about Paul Ryan
Republican vice presidential candidate Paul Ryan is a 'gym rat' who considered becoming a pro skier before turning to politics. He's a budget hawk and strongly antiabortion, but he's gone against the GOP on some issues. And what about his job driving the Wienermobile?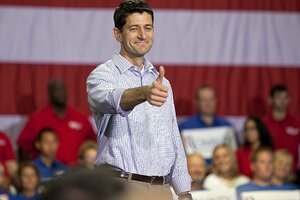 Jason E. Miczek/AP
Like all politicians, Paul Ryan is a lot more interesting – and a lot more complicated – than any superficial image based on what he's said (or others have said about him) regarding one or two issues.
Yes, the young (42) congressman and now Republican vice presidential nominee is a budget hawk who thrills conservatives and annoys liberals. When the GOP regained control of the US House in 2010, he became chairman of the Budget Committee – a principal player in the fierce struggle between congressional Republicans and the Obama administration over how to handle federal deficits, national debt, and economic recovery.
But he's also declined to become part of his party's leadership in the House – mainly, he told Time in 2010, because "I don't want to spend my weekends flying around the country campaigning and raising money."
"I want to spend my weekends at home with my little ones," he said, noting too that "I like policy over politics" (confirming the wonkishness for which he's known).
IN PICTURES: On the Campaign Trail with Mitt Romney
This importance of family no doubt is tied to the fact that his father died when Ryan was just 16 years old – one reason he stresses the importance of physical fitness.
---