Which side is winning the battle to define Paul Ryan?
So far, polls show little to no bounce for Mitt Romney since he named Rep. Paul Ryan as his running mate. The wisdom of adding Ryan to the ticket could be decided by how well he and Romney resolve their unsettled message on Medicare.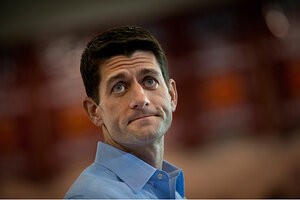 Justin Merriman/Tribune Review/AP
The moment Mitt Romney announced that Rep. Paul Ryan was his running mate, the race to define the youthful budget wonk from Wisconsin was on.
Would the public see him as a dynamic reformer, ready to help Mr. Romney steer the nation away from insolvency and onto a robust fiscal and economic path? Or would voters see him as a conservative ideologue, ready to undo the social safety net and hand tax cuts to the rich?
Chances are, it depends on where one already stands. Most likely, voters already know which team they'll support in November, and judging by the polls, the selection of Mr. Ryan has barely made a dent in what is shaping up to be a close race. Gallup Daily tracking shows Romney at 47 percent, compared with 46 percent for the four days before he named Ryan. President Obama has held steady at 45 percent. Gallup's 1-point bump is in line with the average of polls taken since Saturday.
"This is a below-average 'bounce' for the selection of a vice presidential candidate," writes Nate Silver, the numbers-crunching blogger at The New York Times. "In past elections, the bounce has averaged in the neighborhood of 4 percentage points instead."
The Obama campaign is predictably gleeful, and held a conference call Thursday to highlight the polls – including a YouGov poll that showed Mr. Obama picking up a percentage point since the Ryan news. But it's early in the season, and many voters are still tuning in to this new figure on the national stage.
---