Mitt Romney says he pays 13 percent in taxes. How low is that?
Mitt Romney has tried to fend off criticism about how much he has paid in federal taxes. But his 13 percent tax rate during the past 10 years puts him in peculiar company.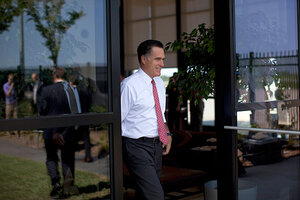 Evan Vucci/AP
Mitt Romney says he paid an average federal income tax rate of 13 percent during the past 10 years.
Who else pays the same rate?
One answer would be registered nurses and accident appraisers for insurance companies.
According to the Bureau of Labor Statistics, nurses and appraisers make about $60,000 a year on average, which gives them an individual tax rate of about 15 percent, or actually a little higher than Mr. Romney.
They get to that tax rate because, like most wage earners, they owe payroll taxes – the money that gets deducted from a paycheck and goes to Social Security and Medicare. As a self-employed person, though, Romney's payroll tax "borders on the insignificant," says Joe Rosenberg, a research associate at the Tax Policy Center, a joint venture of the Washington-based Urban Institute and the Brookings Institution.
In total, Romney paid $29,000 out of $20.7 million in income in 2010 for Medicare and Social Security.
---