Where's Romney's Ryan 'bounce'? Polls give weak report
Paul Ryan's presence on the GOP presidential ticket has given Mitt Romney a slight boost in the polls – less than Sarah Palin or Joe Biden did for John McCain and Barack Obama four years ago. But Ryan has put new spring in Romney's step, and he's helped loosen Republican wallets.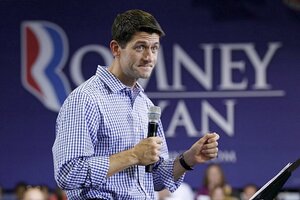 Jose Luis Magana/AP
It's been a week since Mitt Romney made what virtually all pundits called a "bold choice," picking Rep. Paul Ryan as his running mate. That scene at the battleship USS Wisconsin in Norfolk, Va., thrilled Republicans yet to fully embrace Mr. Romney and energized Democrats eager to take on this notably conservative figure who'd become a major congressional foe as chairman of the House Budget Committee.
It's put new spring in Romney's typically cautious, measured step. And with Mr. Ryan drawing overflow crowds at campaign events, it's loosened the wallets of Republican Party contributors.
In those seven days, we've learned more about Mr. Ryan. His personal finances, for example.
He and his wife Janna (a tax attorney) paid an effective tax rate of 15.9 percent in 2010 and 20 percent in 2011. His financial disclosure forms show a net worth of more than $4 million and total assets ranging up to $7 million – far more than most Americans but far less than Mr. Romney's estimated $250 million.
While Romney and Ryan champion the private sector over government, the Ryan family business, which goes back generations, has been built to a large extent on government contracts.
"A current search of Defense Department contracts suggests that 'Ryan Incorporated Central' has had at least 22 defense contracts with the federal government since 1996, including one from 1996 worth $5.6 million," Salon reports. "What's funny is that Mr. Anti-Spending secured millions in earmarks for his home state of Wisconsin, including, among other things, $3.3 million for highway projects. And Ryan voted to preserve $40 billion in special subsidies for big oil, an industry in which, it so happens, Ryan and his wife hold ownership stakes."
---