Interview: President Obama on Romney's 'extreme' views
On the eve of the Republican National Convention in Tampa, President Obama says that a President Romney would not 'stand in the way' if Congress gave him a bill that stripped away women's control over their reproductive health.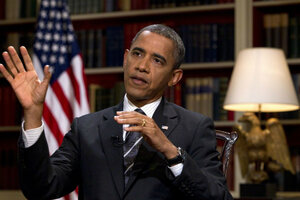 Carolyn Kaster/AP
President Barack Obama said Mitt Romney has locked himself into "extreme positions" on economic and social issues and would surely impose them if elected, trying to discredit his Republican rival at the biggest political moment of his life.
In an interview with The Associated Press, Obama said Romney lacks serious ideas, refuses to "own up" to the responsibilities of what it takes to be president, and deals in factually dishonest arguments that could soon haunt him in face-to-face debates.
Obama also offered a glimpse of how he would govern in a second term of divided government, insisting rosily that the forces of the election would help break Washington's stalemate. He said he would be willing to make a range of compromises with Republicans, confident there are some who would rather make deals than remain part of "one of the least productive Congresses in American history."
Mainly, Obama was intent on countering Romney even before his challenger got to the Republican National Convention, which starts Monday in Tampa, Fla . In doing so, the president depicted his opponent as having accumulated ideas far outside the mainstream with no room to turn back.
"I can't speak to Governor Romney's motivations," Obama said. "What I can say is that he has signed up for positions, extreme positions, that are very consistent with positions that a number of House Republicans have taken. And whether he actually believes in those or not, I have no doubt that he would carry forward some of the things that he's talked about."
---