GOP convention wrap-up: The balloons fell. So how did Mitt Romney do?
At the GOP convention, Mitt Romney needed to unify and fire up his supporters and attract undecided voters. The coming weeks will show if any needed 'bounce' in the polls endures.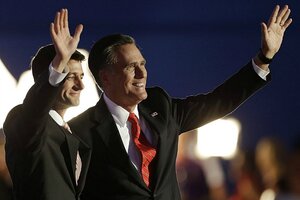 Charlie Neibergall/AP
The curtain has dropped on the Republican National Convention, but two key questions remain:
Did Mitt Romney and the hundreds of other participants in this traditional political extravaganza accomplish what they intended? And where do the Republican Party and the Romney campaign go from here in the 67 days left until Election Day?
Mr. Romney roused the GOP faithful crowded into the Tampa Bay Times Forum Thursday night. His speech revealed a few more details about his personal life – something that doesn't come easy to him. And convention schedulers obviously worked hard to leave the impression that the party has become more inclusive, although the roster of speakers seemed more diverse than the delegates gathered to hear them.
There were more dynamic, more natural speakers than Romney – vice presidential nominee Rep. Paul Ryan, former Secretary of State Condoleezza Rice, and Sen. Marco Rubio in his introduction of Mr. Romney. But others – politicians being politicians – seemed more self-promotional.
---