GOP ad asks women: 'Is Obama the boyfriend you need to dump?'
Republicans and a conservative women's group are making President Obama into the boyfriend who hasn't delivered on his promises and needs to go – just in time for Obama's big speech Thursday night in Charlotte.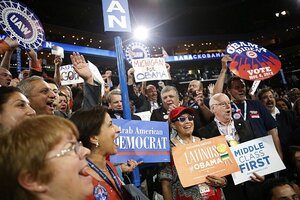 Jae C. Hong/AP
"Listen, this just isn't working," an attractive young woman tells a mostly-off-camera figure. "It's been four years. You've changed. Your spending is out of control. You're constantly on the golf course, and you're constantly out with Hollywood celebrities."
"It's not me, it's you," she says, as the camera pans out to reveal a cardboard cutout of President Obama.
On the day Mr. Obama delivers his big Democratic National Convention speech, not one but two attacks are being leveled at the president that make him into the boyfriend who's pushed things too far and needs to go.
One, an ad called "The Breakup," which debuted Thursday morning on NBC's "Today Show," comes courtesy of the Republican National Committee (RNC). Another, a web video called "Boyfriend," which depicts two women on a couch, was produced by the conservative group Independent Women's Voice (IWV).
"I was so excited at first," the younger woman confides, coffee mug in hand. "He seemed so perfect."
"They always do," the older woman responds, reassuringly.
In other words, time to break up.
RECOMMENDED: Are you more (or less) liberal than President Obama? Take our quiz!
---