Climate change: why it could be a hot topic on the campaign trail
Climate change had been virtually absent from the campaign until Mitt Romney and President Obama traded jabs at their conventions. Some polls say it could be a vote-getter for Democrats.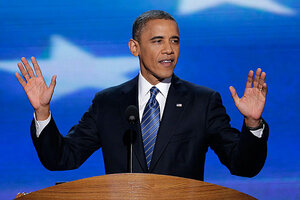 J. Scott Applewhite/AP
Like Lord Voldemort in the Harry Potter saga, climate change has been the issue "that shall not be named" – mostly a political no-show in the presidential campaign.
But that may be changing thanks to the political heat generated by the two conventions.
In Tampa, Mitt Romney threw down the gauntlet to Barack Obama, for whom global warming – and the consequent sea level rise – has been a signature issue since he promised in 2008 to do something about it as president.
"President Obama promised to begin to slow the rise of the oceans and heal the planet," Mr. Romney told GOP delegates in Tampa, a smile on his face. "My promise [long pause – audience laughter] is to help you and your family."
But that laugh line appears to have been just too much for Mr. Obama, who is fighting for support in a neck-and-neck campaign where the economy – not climate change – is the front and center issue. So he let fly.
"Yes, my plan will continue to reduce the carbon pollution that is heating our planet – because climate change is not a hoax," the president shouted to delegates in Charlotte, N.C. "More droughts and floods and wildfires are not a joke. They're a threat to our children's future. And in this election, you can do something about it."
---