Democratic convention hoopla over, Obama now faces a reality check
In the cold light of a post-convention morning, President Obama got more discouraging news on US employment. Unlike 2008, he can't just speak aspirationally; he has a record to defend.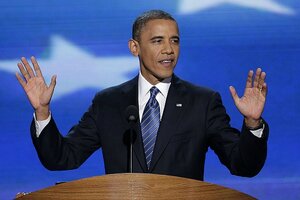 J. Scott Applewhite/AP
The conventions are over. Back to reality. Friday morning, just hours after President Obama delivered his big address at the Democratic National Convention, the new unemployment figure was released – 8.1 percent in August, down from 8.3 percent the month before.
The slight decline may seem a political boon to Mr. Obama, but it reflects discouraged workers dropping out of the labor force. The economy added only 96,000 jobs last month, below expectations.
In a tight presidential race against Republican Mitt Romney, public perceptions of the economy's direction will be central to the outcome in November. But with Friday's mixed news, the shape of the race was likely to remain unchanged.
The jobs report served as a reminder of the challenge Mr. Obama faces as he seeks a second term amid chronically high unemployment. If Obama succeeds, he will have defied political gravity: No president has won reelection with such high unemployment since Franklin Roosevelt during the Great Depression.
But that's a big "if." As Obama's convention speech demonstrated, it's not 2008 anymore. By definition, he could not be purely aspirational. He has a record to defend. And there were moments in his address when he seemed painfully mindful of that fact, as he asked for more time to finish the task of rebuilding the economy.
---