Democrats basking in post-DNC glow. How long will that last?
If conventions preach to the choir, candidates always hope the choir will be mobilized. On the fringes of an Obama-Biden appearance in New Hampshire Friday, the DNC fires were still burning.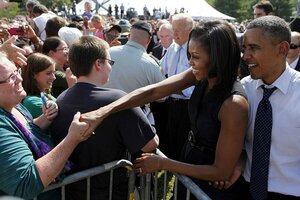 Larry Downing/Reuters/File
In the afterglow of the Democratic National Convention, Obama supporters had an extra bounce in their step Friday, even if they were too late to make it past security gates to see the Obama and Biden couples on the grounds of Portsmouth's Strawbery Banke Museum.
"I'm fired up," said local Didi Wallace, who was using flip-flops and wooden stakes to hold up a handmade sign a few blocks from the event that read, "Mitt Who?"
The longtime Democrat said she puts this year's convention "at the top."
"I was so depressed when Bush got reelected that I thought I really shouldn't get emotionally connected, but, you know, once again I am emotionally connected," Ms. Wallace said with a laugh. "I believe in choice. I believe in contraception…. I'm gay and I want to protect my marriage."
Political conventions are largely an exercise in preaching to the choir – but candidates always hope that the choir will be motivated to go out and persuade other voters, especially in swing states like New Hampshire.
Only time will tell if the excitement will last, but on Friday it was palpable.
The convention speakers "were able to give us everything we needed to hear," said Lucresia Fields, a Tanzanian American who is volunteering for Obama in Somersworth, N.H.
"I am just so ecstatic about health-care reform. Having a small child, you always have to worry about what will happen to them," she said, looking at her son in the stroller. On election day, her large family, including a great-grandmother who has only voted once before, will all be voting for Obama, she says, and she'll be waking up other people in the neighborhood to go vote, too.
---