One presidential debate over, and still undecided in Ohio
The Monitor watched Wednesday's presidential debate with undecided voter Maggie O'Toole in Ohio – an important battleground state. Why she is still not ready to commit to either President Obama or Mitt Romney.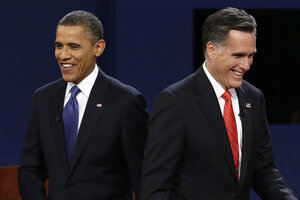 Charlie Neibergall/AP
President Obama mentioned Cleveland; Mitt Romney cited Dayton. Both Ohio cities made it into the first national presidential debate Wednesday, and Maggie O'Toole, an undecided voter from this small city in southeast Ohio, definitely noticed.
Not that she was all that pleased about it. "Way to name-check a swing state," Ms. O'Toole says sarcastically, settled into her living room sofa to watch Mr. Obama and Mr. Romney spar for 90 minutes over domestic policy on a University of Denver stage. "They have to prove they know it. It's weird."
In the end, Ms. O'Toole – a 20-something marketing professional – remains on the fence, unswayed by either candidate's performance and still not ready to commit. She says she felt that Obama and Romney mainly revisited their familiar talking points, and she often found their words disappointing.
With 18 electoral votes, Ohio is an important battleground state in the November election, and both candidates are pushing to win over uncertain voters like O'Toole who will likely determine who will win the state – and perhaps the whole election. A Friday rally for Obama at Cleveland State University will be his 22nd appearance in the state this year; Romney has parachuted into Ohio 16 times so far, most recently last week.
---