Latest figures show Obama campaign war chest approaching $1 billion
Both Romney and Obama campaigns are raising hundreds of millions of dollars. But Obama's surge in fund raising is approaching new records, largely through small, grass-roots donations.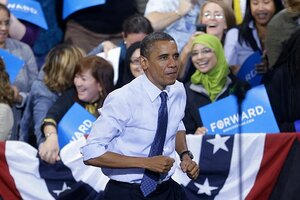 Pablo Martinez Monsivais/AP
Early in the presidential campaign, there was talk of President Obama raising and spending $1 billion on his re-election effort. With the latest report and a month still to go as the hotly-contest race accelerates toward Election Day, it looks like he'll easily make that figure.
"Some amazing news this morning: 1,825,813 people came together to raise $181 million for this campaign in September," Obama tweeted Saturday as the campaign released its figures for last month.
That brings the Obama campaign's total fund raising to $947 million – well on the way to passing the billion-dollar mark and the 2008 total.
The $181 million, raised by the Obama campaign and the Democratic National Committee, was far more than the $114 million raised in August and nearly as much as the record monthly amount collected in September 2008 ($193 million).
"It's a record-breaking sum that far exceeds anything Obama or Mitt Romney has previously raised in a given month, and is a sign of Obama's expansive liberal donor base reengaging in a big way for the final month of the race," writes Alexander Burns at Politico.com.
RECOMMENDED: Presidential debate: 7 defining moments in history (+video)
---