522,719 presidential votes cast so far: Is Mitt Romney holding his own?
The Romney campaign aims to block President Obama from getting too far out in front in early voting, as he did in 2008. So far, it appears to be succeeding in three key states.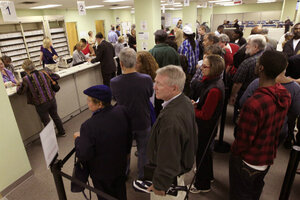 Al Behrman/AP/File
Riding a wave of building enthusiasm and favorable post-debate polling swings, GOP presidential candidate Mitt Romney appears to have also jumped to an early lead in several battleground states, judging by party affiliation of the 522,719 votes cast so far in the US.
Nearly 133 million people voted in the last presidential election (30 percent of them before Election Day), and Republicans have traditionally had an edge in the absentee ballots that are now flowing into state election offices.
Given those facts, the only nondebatable conclusion to draw from early voting so far is that "there's greater interest in early voting than we would have expected," says Michael McDonald, who tracks early voting for the US Elections Project at George Mason University in Fairfax, Va.
But for Mr. Romney, who has also jumped ahead of President Obama in some national and battleground polls after last week's debate, one part of his campaign strategy seems to be working: not to let Obama grab an insurmountable early voting lead, as he did in 2008 when early ballots in some states put him over the top in his win over GOP candidate John McCain.
Early voting results reflect some "organizational, demographic, and enthusiasm" gains by Republicans since the last election, says James Campbell, a voting behavior expert at University at Buffalo, which is part of New York State University.
---