Is Libya terrorist attack 'debacle' hurting Obama?
The White House and the Obama campaign are under fire for the administration's handling of the terrorist attack on the US consulate in Benghazi, Libya, that killed the US ambassador and three other embassy personnel. The Romney campaign is attacking Obama on the issue.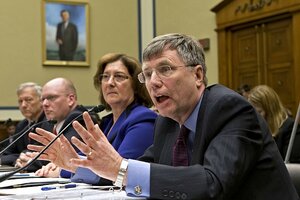 J. Scott Applewhite/AP
The first question in the vice presidential debate this week – the one that is becoming most troublesome for the Obama-Biden ticket – was about Libya and the deadly attack on the US consulate in Benghazi.
The essence of the query to Vice President Joe Biden was as old as Watergate: "What did you know and when did you know it?"
That is, shouldn't you have anticipated the possibility of a terrorist attack, especially on the anniversary of 9/11 when US Ambassador Christopher Stevens made what turned out to be a fatal visit to Benghazi, an area known to include Al Qaeda sympathizers?
And why did the administration persist in describing the attack that killed Ambassador Stevens and three other embassy personnel as tied to protests across the region to a crude anti-Islam YouTube video – protests, as UN Ambassador Susan Rice said some days later, that "seems to have been hijacked … by some individual clusters of extremists who came with heavier weapons."
IN PICTURES: Libya's critical transition
As it turns out, there were no protests tied to the offensive video, and the attack by terrorists seems obviously to have been pre-planned and well-executed against a lightly-defended facility. What's more, according to congressional testimony this past week, requests for beefed-up security had been made to the State Department.
---