With Romney in the lead, Obama needs to step up his debate game
Barack Obama and Mitt Romney are huddled with their debate coaches, prepping for Tuesday night. Coming off a lackluster performance in their first encounter, Obama needs to do better.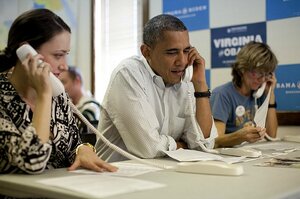 Carolyn Kaster/AP
Like the New York Yankees without Derek Jeter, President Obama is going to have to step up his game in the presidential debate with the newly-ascendant Mitt Romney this week.
Everybody expects this, as campaign surrogates from both camps emphasized Sunday on the TV news shows.
"He knew when he walked off that stage [of the first debate], and he also knew as he watched the tape of that debate, that he has to be more energetic," Robert Gibbs, an Obama campaign adviser and former White House press secretary, said on CNN's "State of the Union."
On "Fox News Sunday," campaign adviser David Axelrod said Obama would be "aggressive in making the case for his view of where we should go as a country."
RECOMMENDED: Presidential debate: 7 defining moments in history
Republicans agree, adding their own negative twist.
"I think President Obama is going to come out swinging," Sen. Rob Portman, who's playing Obama in Romney's debate rehearsals, said on ABC's "This Week." "He's going to compensate for a poor first debate. And I think that will be consistent with what they've been doing this whole campaign, which is running a highly negative ad campaign."
---