Polls show presidential race a dead heat
The trend among likely voters is in Mitt Romney's direction, even though Barack Obama still holds the edge among all registered voters. Both sides have gender gaps and undecided independent voters to worry about, and the last debate, on Monday night, could be crucial.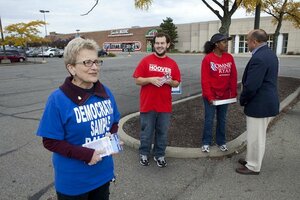 Melanie Stetson Freeman/Staff
It's possible that the presidential race could be closer than it is today – but hard to imagine given what the polls are telling us just 16 days until Election Day.
According to the latest NBC News/Wall Street Journal poll, out Sunday, Barack Obama and Mitt Romney are dead even at 47 percent among likely voters.
This survey was taken after the political combatants' second debate last week, so it's current. In the last such poll, taken before the debates began – that is, before Mr. Obama's dismal performance in the first debate and comeback in the second – Obama was ahead 49 percent to 46 percent.
So the trend among likely voters is in Mr. Romney's direction, even though Obama still holds a five-point edge (49 percent to 44 percent) among all registered voters. Thus, the Obama campaign's big get-out-the-vote effort.
Each side's gender gap is apparent in these latest figures. Romney leads among men (53 percent to 43 percent); Obama is up with women (51 percent to 43 percent).
RECOMMENDED: Obama vs. Romney 101: 5 differences on women's issues
As usual, both camps are spinning the numbers.
"We feel good about where we are," senior Obama adviser David Axelrod told NBS's David Gregory on "Meet the Press." "You look at the early voting that's going on around the country – it's very robust and it's very favorable to us. And we think that's a better indicator than these public polls, which are frankly all over the map."
---