Confusing polls: Has Mitt Romney closed the gender gap or not?
Mitt Romney has caught up to President Obama among women voters in one poll, but has fallen further behind in another. The truth is unclear, but Obama needs to hold his ground.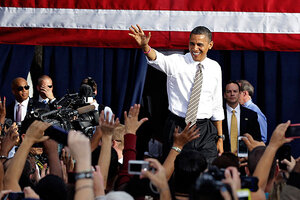 Chris O'Meara/AP
The political world woke up Thursday morning to completely contradictory polls on the women's vote.
The Associated Press finds that the gender gap has all but disappeared from the race for the White House among likely voters. Not only are women now split between Republican Mitt Romney and President Obama, with each candidate at 47 percent, the AP-GfK poll reports, but also the men's vote has gravitated toward Mr. Obama, nearly eliminating Mr. Romney's advantage there. [Editor's note: The original version misstated the poll results for women.]
Bottom line, the race remains close – Romney 47, Obama 45.
But wait: The latest ABC News/Washington Post daily tracking poll among likely voters, out Wednesday night, finds Obama with a 15-point lead among women, 56-41, while Romney has a 17-point lead among men, 57-40. Overall, the result is another statistical tie – Romney 49, Obama 48 – among likely voters.
Why the big difference? Polling experts note that each poll has its own methodology, and so the two can't be compared. Each polling outfit has its own criteria for identifying "likely voters," and weights segments of the population differently. With the election less than two weeks away, polls need to be considered carefully (or sometimes even ignored, when a poll appears to be an outlier).
"There's just a lot of noise, so it's hard to figure out what's going on," says Karlyn Bowman, a senior fellow at the American Enterprise Institute in Washington.
---