Crunch time in Ohio, as Obama, Romney blitz to get out the vote
Both campaigns are swarming Ohio, knocking on doors and making phone calls to potential voters. In these last crucial days, getting out the vote in what may be the deciding state of Election 2012 is paramount.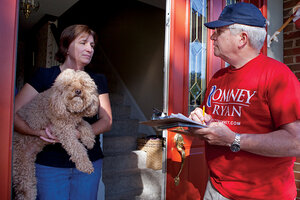 Melanie Stetson Freeman/Staff
(Story updated Wednesday, 8:30 a.m. EDT.)
Jeff Johnson strides up the front walk of a tidy home in suburban Columbus, Ohio, and knocks, ready with three questions: Will you support the Romney-Ryan ticket? If yes, would you like a yard sign? And have you voted yet?
The scene plays out over and over on a recent Tuesday afternoon – before hurricane Sandy dusted the region with snow – and to Mr. Johnson's surprise, plenty of folks answer the door: retirees, moms with kids, people who work from home. Most support Mitt Romney for president. After all, it's a predominantly Republican neighborhood. Only a few won't talk. One supports President Obama. And it's all valuable data, which Johnson records for the Romney campaign on his daily rounds as one of the top Republican door-knockers in Ohio.
It's crunchtime in Election 2012, and particularly in the battleground states, the campaigns are all about Getting Out the Vote – GOTV. Nowhere is voter outreach more important than in Ohio, the state that could well decide the presidential race.
TV and radio ads, phone calls, direct mail, social media, candidate appearances that create buzz – those all matter. But in the age of media saturation, nothing works like old-fashioned, in-person contact in motivating people to cast ballots, strategists say. And after getting beat by Mr. Obama organizationally four years ago, the Republicans have stepped up their ground game – in Ohio and in other swing states.
"You can call it 'back to the future': the return to door knocking," says Scott Jennings, director of the Romney campaign in Ohio. "It's the personal interaction that matters, and it's the targeting that matters."
---