Obama vs. Romney: Who has the momentum?
Mitt Romney leads Barack Obama by a fraction in the average of national polls. But Obama is ahead in enough battleground states to maintain a lead in the Electoral College. In short, the whole race is too close to call.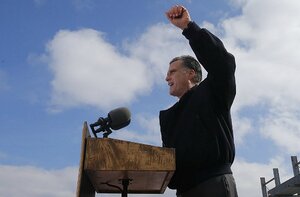 Brian Snyder/REUTERS
As the clock winds down in Election 2012, each campaign is fighting for an elusive but essential ingredient in a close race: the Big Mo.
Part of Republican Mitt Romney's strategy seems to be using the word "momentum" as much as possible in campaign emails. One fundraising email from Mr. Romney reached this reporter's inbox five times on Friday. Subject line: "The momentum."
"The debates have supercharged our campaign and the Republican team," the email says. "We're seeing more and more enthusiasm – and more and more support."
Certainly, Romney's energetic performance against a lackluster President Obama in the first debate, Oct. 3, galvanized the former Massachusetts governor's supporters. The crowds at Romney rallies now number in the thousands, up from the hundreds. In fundraising for the first half of October, Team Romney beat Team Obama $111.8 million to $88.8 million.
RECOMMENDED: Are you more (or less) conservative than Mitt Romney? Take our quiz.
But Romney hasn't been able to take that mini-surge in polls after the first debate and build it into a clear lead over Obama, perhaps because the president came back to life in the last two debates.
"While Romney gained significantly in the wake of the first presidential debate in early October, the lack of a continuing trend over the past two weeks helps counter a theme in some campaign coverage that Romney's support continues to 'surge' nationwide," writes Mark Blumenthal, senior polling editor at the Huffington Post.
---