Could New Hampshire hold the key? Romney and Obama take no chances.
Both Obama and Romney are squeezing in last-minute visits to New Hampshire this weekend, and their campaigns are running at full speed. And all for 4 electoral votes.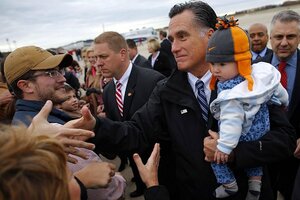 Brian Snyder/REUTERS
Manchester and Nashua, N.H.
President Obama and Gov. Mitt Romney are squeezing in some final visits to the Granite State to ensure that their voters' support is rock solid come Tuesday.
New Hampshire may have just four Electoral College votes, but no one forgets that those could have won Al Gore the presidency in 2000. He lost here by just over 7,000 votes.
About 700,000 voters are expected at New Hampshire polls on Tuesday. There's no early voting in the state, except by absentee ballot, so last-minute attention from the candidates can be key.
At a rally Saturday morning, Mr. Romney declared that "New Hampshire gave me the Republican nomination and New Hampshire is going to get me to the White House."
Romney will return to New Hampshire on the eve of the election for what's being dubbed the "Final Victory Rally," a concert with Kid Rock.
"It speaks to how much Governor Romney really does treasure this state," says campaign spokesman Tommy Schultz. "He began his campaign here…. In many ways it's full circle coming back to where it started."
RELATED: Seven battleground states: Does economy help Obama or Romney?
---