Dude, could pot smokers decide the election – for Mitt Romney?
A marijuana legalization measure on the Colorado ballot – promoted by Libertarian candidate Gary Johnson – could be very important in this close presidential race.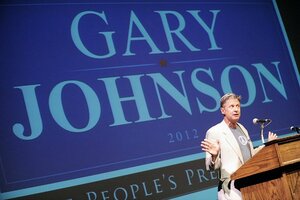 Bernard Thomas/The Herald-Sun/AP
The Jewish vote, women, Hispanics, even the Scandinavian vote have all been pegged by prognosticators as key swing constituencies in Tuesday's electoral showdown between President Obama and Mitt Romney.
But what if it's really pot smokers who decide the next US president, specifically psychedelia enthusiasts in the battleground state of Colorado (nine electoral votes) where pot legalization and dark horse candidate Gary Johnson are both on the ballot?
Far out, right? Maybe not.
Polls suggest that Colorado's Amendment 64, which would legalize and regulate marijuana much like alcohol, may pass on Tuesday, so legalization will be foremost on the minds of voters in a state now in a statistical deadlock between Mr. Obama and Mr. Romney. (Washington and Oregon also have pot legalization referendums on the ballot, but Romney stands little chance in those liberal northwestern enclaves.)
Cover Story: What Americans want from the next president
To thicken the haze, add former New Mexico Governor Johnson running for president as the Libertarian candidate. Johnson, who first supported legalization in 1999, has made Colorado his linchpin, campaigning extensively and paying for robocalls suggesting to Democratic voters that Obama has let them down by going against a 2008 campaign vow to go easy on medical marijuana dispensaries.
The nail-biter for the two campaigns heading into Election Day: Johnson alone may take 1, possibly 2, percent of the Colorado vote, enough to tip the scales – perhaps nationally – for either of the major-party contenders.
---