How Obama won in a weak economy: Voters didn't blame him
The economy was the big issue in the election, and Mitt Romney saw its poor condition as a point of vulnerability for Obama. But in exit polls, only 38 percent of voters blamed the president.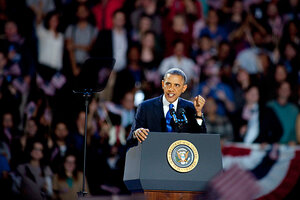 Melanie Stetson Freeman/Staff
A number of factors are winning attention as important to President Obama's reelection win, among them the Latino vote, a surge in young voters' share of the electorate, and a surprise no-show by many white voters whom Republicans were counting on.
Here's one more teensy little thing that might be added to the list: the economy.
A large majority of voters cited this as the top national issue, and the nation's historically high unemployment rate was the big vulnerability that challenger Mitt Romney hoped to use as a lever to pry Mr. Obama out of office.
But the economy has also been slowly improving, and in the end Obama's Republican rival couldn't gain the leverage he hoped for.
Here are some nuggets of insight that voters provided in exit polls Tuesday, which tell the story:
• Even though three-fourths of voters see the state of the economy as "not so good" or poor, they didn't hold Obama as primarily to blame, The Washington Post reports. When asked if they assigned blame more to Obama or to President Bush, only 38 percent of voters said they saw Obama as responsible for current conditions.
In essence, many voters didn't buy Mr. Romney's argument that poor stewardship since 2008 has cost the economy millions of jobs. This helps explain other findings below.
---