Karl Rove on why Romney lost: Obama was 'suppressing the vote'
GOP strategist Karl Rove used provocative words to describe one reason he believes Obama won. By 'suppressing the vote,' Rove appeared to mean that negative ads about MItt Romney tamped down enthusiasm for the GOP nominee.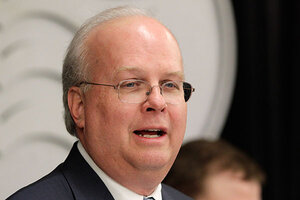 Tony Gutierrez/AP/File
Conservative political strategist Karl Rove has used a provocative phrase to explain how Mitt Romney lost the presidential election Tuesday, saying President Obama won reelection "by suppressing the vote."
Really? Few others make that assertion about the Obama victory.
And normally, the words voter suppression refer to efforts by the politically powerful to make it harder for people – especially people who might oppose the politically powerful at the polls – to cast ballots. The online reference Wikipedia defines it as tactics that "can range from minor 'dirty tricks' that make voting inconvenient, up to blatantly illegal activities that physically intimidate prospective voters to prevent them from casting ballots."
Mr. Rove, a force behind big-money ad campaigns aligned with Republican candidates, appeared to redefine the term.
Appearing on Fox News Thursday, Rove implied that Obama's suppression strategy was to make Romney unlikeable, so that the Republican's potential supporters wouldn't show up to vote for him.
"He succeeded by suppressing the vote, by saying to people, 'you may not like who I am, and I know you can't bring yourself to vote for me, but I'm going to paint this other guy as simply a rich guy who only cares about himself,' " Rove said.
By his definition of suppression, it sounds just like traditional "opposition research" and negative advertising. Does Rove (himself a purveyor of negative ads in his work for George W. Bush and now at the Crossroads GPS group) have some different point to make, or is this just sour grapes over the election outcome?
---