Is the Senate becoming riper for a Republican takeover?
Surging challenges to two Democratic incumbents – Patty Murray in Washington and Russ Feingold in Wisconsin – are a reason that chances for Republican takeover of the US Senate may be rising in Election 2010.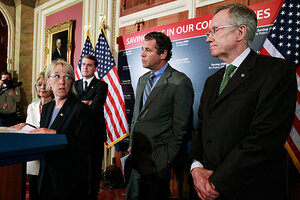 Manuel Balce Ceneta/AP
The conventional wisdom on the midterm elections has been that the House is vulnerable to a Republican takeover, but the Senate? Not so much.
It's still true that the Republicans have an easier path to a House takeover, with so many Democratic-held seats in play. But with strong challenges emerging against two Senate Democratic incumbents previously seen as safe – Patty Murray of Washington and Russ Feingold of Wisconsin – and the national atmospherics heavily favoring the Republicans, Democrats increasingly have their work cut out for them to save control even of the Senate.
Add to that the possibility that one or even two senators currently in the Democratic column could flip to the Republican side if the GOP gets close to a takeover on Nov. 2. Let's say the Republicans make a net gain of nine seats – one short of the 10 they need for a majority. Speculation will then immediately turn to Sen. Ben Nelson of Nebraska, a conservative Democrat from a red state who sometimes sides with the Republicans. Less likely but still conceivable as a party-switcher is Sen. Joe Lieberman of Connecticut, an independent who caucuses with the Democrats but is seen by some Democrats as not completely with the team.
IN PICTURES: Retiring senators
If the Republicans get close to a majority and offer one or both of these senators a committee chairmanship, that could sweeten the deal.
---