Why John McCain isn't in more trouble for Arizona Senate primary
Sen. John McCain's record as an immigration reformer doesn't seem to match a state that's taking a hardline stance on illegal immigration. But the senator is managing to fend off a challenge from his right ahead of Tuesday's GOP Senate primary in Arizona.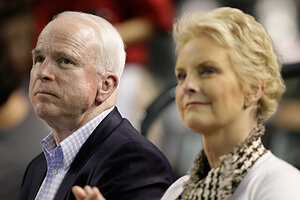 Matt York/AP
The whispers in the spring were that Sen. John McCain, the Republican Party's presidential candidate in 2008, was vulnerable to an upset from the right when he sought reelection to the Senate this year. Now, in the home stretch toward Arizona's primary election on Tuesday, such talk has largely faded.
Senator McCain commands a solid lead in polls over former US Rep. J.D. Hayworth, who defines himself as a candidate of the "tea party" movement, and Jim Deakin, a political newcomer who is in third place.
In state where a crackdown on illegal immigration is widely backed by voters, McCain's record of working with Democrats to redesign US immigration policy might not go down easy. It is just the kind of stance that the energetic tea party activists here derided. Moreover, he is a 24-year incumbent working to preserve his seat amid widespread anti-incumbent sentiment.
Given Mr. Hayworth's all-out challenge, McCain's response has been to shift to the right, including on immigration issues. The senator endorsed the state's controversial new immigration law that the Obama administration has challenged in court, and lately he has pushed mainly for tighter border controls, forgoing his role as a unifying force between Democrats and Republicans seeking bipartisan immigration reforms to legalize illegal immigrants. "Complete the danged wall," McCain says in one of his campaign ads as he strolls next to the metal barrier between the US and Mexico.
---