Where GOP's Lisa Murkowski went wrong and John McCain went right
Sen. Lisa Murkowski of Alaska didn't open her war chest in time, and it may have cost her the GOP primary. Arizona's Sen. John McCain, by contrast, spent early and often.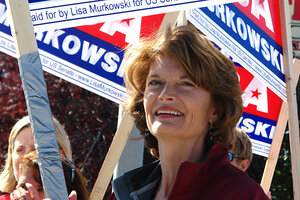 Mark Thiessen/AP
If anything has been learned so far from the 2010 primary election cycle, it may be that the candidate who hesitates is lost.
Sen. Lisa Murkowski (R) of Alaska did not open her war chest in time, for instance, and that may have cost her Tuesday's GOP primary. Yes, Murkowski's opponent, attorney Joe Miller, got a big boost from his Sarah Palin endorsement. Yes, Murkowski's vote for the Troubled Asset Relief Program (TARP) bank bailout and her past moderation on abortion may have left her vulnerable.
But Murkowski was sitting on $2 million in campaign cash when August began, and in politics money unspent is no advantage. By then, Mr. Miller was broadcasting ads around the state hitting her as too liberal for the Big Frontier. Murkowski did not respond with her own tougher spots until days before the vote, and by then it may have been too late, points out one well-known US political expert.
"If you have superior resources, you use them to define your opponent in a way that makes him or her unacceptable to voters," says Larry Sabato, director of the University of Virginia Center for Politics.
Right now, Murkowki trails by Miller by about 2,000 votes, with some 16,000 absentee ballots yet to be counted. The race remains too close to call.
---