Lisa Murkowski of Alaska bows out, is seventh losing incumbent
Lisa Murkowski of Alaska concedes to Joe Miller in Alaska's Aug. 24 primary. Lisa Murkowski joins six other congressional incumbents who lost in their party's primaries.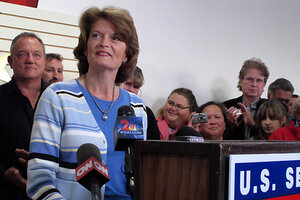 Dan Joling/AP
In a bow to the seemingly inevitable, Republican Sen. Lisa Murkowski has conceded defeat to her "tea party"-backed rival, lawyer Joe Miller, in Alaska's Aug. 24 primary.
The close race, which was not foreseen in polls, sat in suspension for a week as absentee, early, and contested ballots were counted. By Aug. 31, Senator Murkowski had made up some ground against her Sarah Palin-endorsed opponent, but, she concluded, not enough to keep fighting.
"Based on where we are right now, I don't see a scenario where the primary will turn out in my favor," Murkowski said Tuesday evening in her concession remarks.
---