Boxer-Fiorina debate: California economy is center stage
Boxer-Fiorna debate was gaffe-free but too scripted, analysts say. Sen. Barbara Boxer and GOP challenger Carly Fiorina faced off Wednesday night, drawing sharp distinctions between them.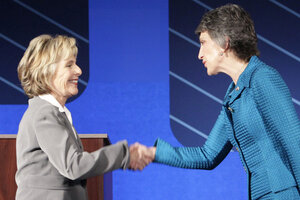 Jeff Chiu/AP Photo/Pool
Neither candidate made any large gaffes or scored a knockout. The proceedings were fast-paced and informative, with both participants articulate and combative, feminine but in charge.
Those are the assessments of top political analysts, voters, and academics across California after the televised one-hour debate Wednesday night between Sen. Barbara Boxer (D) of California and firebrand Republican challenger Carly Fiorina, former CEO of Hewlett-Packard.
"This was a hard-hitting debate, if not a particularly spontaneous one," says Jessica Levinson, political reform director of the Center for Governmental Studies, echoing an oft-heard analysis. "My biggest disappointment is that the event felt so scripted. At times, it seemed less like an exchange of ideas, and more like an exchange of talking points. I yearned for a moment like the one that occurred on the 'West Wing' [TV show], when both candidates agreed to throw out the rules and have a free and open dialogue about the campaign issues."
Ms. Fiorina repeatedly painted Senator Boxer as an ineffective incumbent, say Ms. Levinson and others, and Boxer drew a picture of Fiorina as a newcomer so conservative that she is out of step with Californians. The economy, which is top of mind for many Californians, took center stage. While Fiorina accused Boxer of taxing and spending the state into a fiscal mess, Boxer accused Fiorina of being a greedy CEO, firing people, shipping jobs overseas, and accepting a large severance package.
---