Could Christine O'Donnell actually win in November?
Democrats dismiss 'tea party' favorite Christine O'Donnell, now the GOP Senate nominee, at their peril, say Delaware political observers.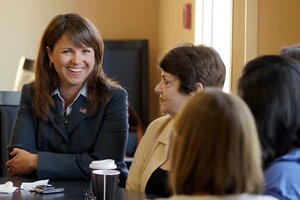 Rob Carr/AP
As soon as Christine O'Donnell won the Republican Senate primary in Delaware, the pundits pretty much wrote her off as unelectable in November.
Ms. O'Donnell is too conservative, too "tea party," for a Democratic-leaning state like Delaware, they said. She has a sketchy financial past, including a mortgage default and allegations of unpaid loans and taxes. She reported just $5,800 in earned income between March 2009 and July 2010, according to a Senate financial disclosure form. Her professional background is also eyebrow-raising, at least outside conservative circles. During the 1990s, she worked for a pro-abstinence group and equated masturbation with adultery.
But remember: She has now proven she can win a race. She defeated Rep. Mike Castle (R) – as seasoned a politician as they come, well-known and well-liked statewide.
Yes, it was the Republican primary in a state where the GOP has many fewer registrants than the Democrats. In the general election on Nov. 2, the tilted playing field and more typical candidate profile of the Democratic nominee, New Castle County executive Chris Coons, makes him the heavy favorite to win Vice President Biden's old Senate seat.
---