Is Joe Miller too 'tea party' for Alaska?
Joe Miller, the 'tea party'-backed Republican candidate for Senate in Alaska, is trying to turn traditional Alaska politics on its head. It might not work.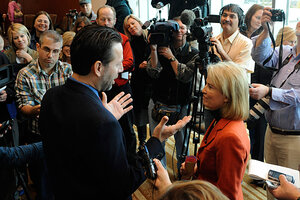 Bill Roth/Anchorage Daily News/AP
By the calculus of traditional Alaska politics, Joe Miller did something odd at the conclusion of a debate hosted by the Anchorage Chamber of Commerce Monday.
The "tea party" favorite, a Fairbanks attorney who upset incumbent Sen. Lisa Murkowski in the GOP primary in August, Mr. Miller was all smiles as he talked in the back of the convention hall with Fox News's Greta Van Susteren. But when that pleasant chat on national television was over, Miller walked into the hallway and, after avoiding eye contact with local reporters, lectured them about their perceived shortcomings and then abruptly left.
The local reporters had wanted to ask pointed questions: Did a series of embarrassing revelations, including details about a falling-out with his last employer, mean he isn't who he portrays himself to be? He took no questions, however, and announced: "We've drawn a line in the sand. You can ask me about background, you can ask about personal issues – I'm not going to answer." Then he ducked into a nearby stairwell.
---