For Alaska's Joe Miller, handcuff incident adds to mounting troubles
Security guards for Senate candidate Joe Miller of Alaska put a journalist in handcuffs Sunday. It was only the latest problem to beset the Miller campaign in recent weeks.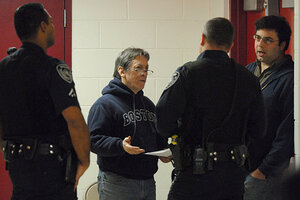 Bill Roth/Anchorage Daily News/AP
When Joe Miller was in Washington being feted last month at Republican fundraisers as a rising conservative star, he was so confident of winning election as Alaska's next US senator that he tweeted that it might be time to "do some house hunting" in the capital city.
Three weeks later, Mr. Miller is mired in controversy back home. That tweet sent by the "tea party" endorsed candidate was only one in a series of missteps that threaten to erase the slim lead he held over his two rivals in recent polls.
• After persistent questioning, Miller has admitted that he was disciplined for ethics breaches when he was an attorney employed by the Fairbanks North Star Borough. Former Fairbanks North Star Borough Mayor Jim Whitaker said last week that Miller inappropriately used borough computers for partisan political purposes in 2008.
• Miller skipped a debate Monday and has refused to answer any questions about his personal or professional background.
• Financial disclosure forms submitted six months late present a portrait of someone mired in debt – a jarring note in a campaign that has railed against the federal debt.
• When discussing immigration, Miller expressed admiration for how East Germany managed the Berlin Wall.
---