Carly Fiorina out of hospital: How does illness affect a campaign?
Carly Fiorina spent a day in the hospital this week. The impact it has on her bid to unseat Sen. Barbara Boxer could depend on how her campaign handles the challenge.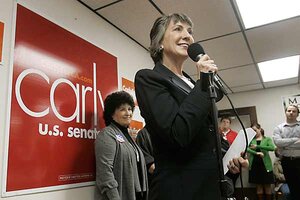 Rich Pedroncelli/AP
With the announcement that Carly Fiorina, the Republican challenger for the US Senate seat held by Barbara Boxer, was released from a California hospital Wednesday, the focus shifts to what the episode will mean for her campaign.
Ms. Fiorina, a former Hewlett-Packard chief executive, had surgery for breast cancer in February 2009, and on Monday developed an infection from a follow-up operation she had over the summer.
Eight points behind Senator Boxer in an Oct. 24 Los Angeles Times/University of Southern California poll, Fiorina was mounting an aggressive advertising blitz credited with helping to keep Senator Boxer from pulling away.
The impact of Fiorina's day in the hospital will likely depend on how she and her staff handle it. The final few days of a campaign are often crucial, and illness represents an unexpected challenge. But Fiorina might also be helped slightly – the episode humanizes her and forces Boxer to ease off attacking her.
---