Outside spending fuels negative ads in tight Colorado Senate race
Democratic US Sen. Michael Bennet trails GOP challenger Ken Buck by 3 points in a Colorado Senate race that has seen outside groups spend heavily on negative campaign ads.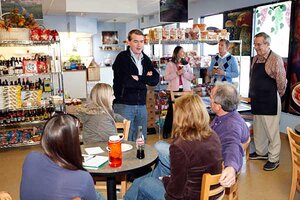 Ed Andrieski/AP
At $32 million in spending and counting, Colorado's US Senate race between appointed Sen. Michael Bennet (D) and tea party-backed challenger Ken Buck (R) has attracted more aggressive spending by outside groups than any race in the nation.
With outside groups more willing than candidates to go toxic with their campaign ads, it's produced a continual negative stream of campaign ads. They have dubbed Mr. Buck an extremist and insensitive to women and painted Mr. Bennet as a mere appendage of the Obama administration.
"We're at least at $40 million, including candidate funding – a completely over-the-top record for Colorado," says Floyd Ciruli, a Denver-based independent pollster.
"It's led to saturation advertising on every possible medium: radio, television, blogs and websites – lots of social media. It's battled the race to a standstill, and at this point it is now down to things that money helps a little but not too much."
With control of the Senate in the balance, all Senate races are drawing attention from outside groups across the political spectrum, but as one of the closest Senate races for months, Colorado has drawn special attention.
It's also a prize for conservative groups, because Bennet, appointed to fill the seat held by Interior Secretary Ken Salazar, is viewed as especially close to President Obama, who helped Bennet in a contested primary.
---