Washington, Colorado, Alaska Senate races: When will we know who won?
The Colorado, Washington State, and Alaska Senate races are undecided on Wednesday morning. They won't tip the balance of power in the Senate, but two are important to Democrats.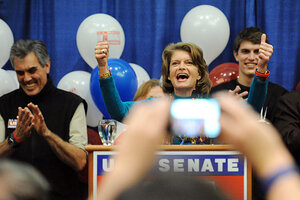 Michael Dinneen/AP
As Tuesday night drew on toward Wednesday morning, three US Senate races – Colorado, Washington State, and Alaska – remained way too close to call.
Will they be determined before the sun goes down again? Not necessarily. Recounts loom in at least two states, which could last weeks, and both parties are lawyered up for the legal battles that might ensue.
These three nail-biters won't determine which party controls the Senate. With outcomes elsewhere already known, Democrats will remain the majority party there, although by a slimmer margin. But just how slim remains to be seen, and on a night when Democrats took the worst midterm shellacking in the House of Representatives since 1946, they're hoping for just a bit of good news.
Here's where things stand:
Colorado. Democratic Sen. Michael Bennet and Republican Ken Buck are within just a few thousand votes of each other, with more than 1.4 million ballots tallied and thousands of provisional and write-in ballots yet to be counted.
If the margin remains this slim, state law calls for an automatic recount, which wouldn't take place until after Thanksgiving. At time of writing, Mr. Bennet was leading by less than 9,000 votes.
---