Olympia Snowe delivers stunning rebuke in decision to leave Senate
Olympia Snowe, a moderate Republican senator from Maine, won't seek another term in the US Senate because intense partisanship has made her question how 'productive' it would be.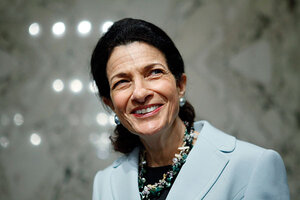 Jason Reed/REUTERS/File
In a move that stunned Washington, Sen. Olympia Snowe (R) of Maine announced Tuesday that she won't run for a fourth term in the Senate for a simple reason: gridlock.
"I am well prepared for the electoral battle, so that is not the issue," said Senator Snowe, who won her last race with 74 percent of the vote. "However, what I have had to consider is how productive an additional term would be.
"Unfortunately, I do not realistically expect the partisanship of recent years in the Senate to change over the short term," she added.
An iconic Senate moderate, Snowe often cast crucial votes in a closely divided Senate, forcing Republicans to take steps to curb the federal deficit, even when the core GOP issue of tax cuts was involved. More than once, her party's leaders had to rein in the scope of proposed tax cuts or to find offsetting sources of income to win her vote.
She also helped organize the bipartisan Gang of 14 to preserve the minority's right to filibuster judicial nominations – even though Democrats were in the minority at the time.
Dubbed the "girls from Maine" by antitax activist Grover Norquist, Snowe and Sen. Susan Collins ranked as the two most liberal Republicans, according to a Feb. 25 survey by the National Journal. Despite the grumbling that Snowe is a RINO, or "Republican in name only," conservative activist groups weren't out to topple her – a move that would risk handing the seat to a Democrat.
"She was not at all facing a tough race, and that's what makes her decision so perplexing," says Jessica Taylor, senior analyst at the Rothenberg Political Report in Washington. "This was rated a safe Republican seat – a seat neither party expected to spend much money on."
---